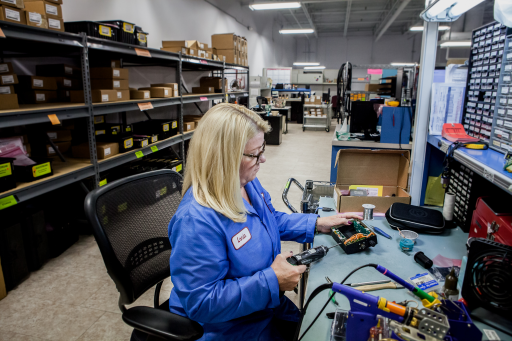 As an original equipment manufacturer, Dukane Seacom has the certified operators, technicians and authorized inspection system to ensure that Dukane Seacom's products are maintained in accordance with product specifications and FAA/EASA requirements and regulations.
Dukane Seacom's authorized repair station is Radiant Seacom Repairs (located on site with Radiant Power Corporation), giving operators the confidence that proper maintence and testing was performed to ensure equipment operation to all specifications.
FAA Approved Repair Stations No. W9PR345Y
EASA Approved Repair Stations No. 145-5491
Create an RMA through our Self-Service Portal
Dukane-Seacom Part Number
Technical Manual
Rev./Date
03-TM-0037 Underwater
Acoustic Beacon
DK100, DK120, DK130, DK140
Rev. A - April 25, 2016
03-TM-0063 Underwater Acoustic Beacon
DK120/90
Rev. D – Mar 21 2016

03-TM-0060 Ultrasonic Test Set
42A12/1
Rev. A – Nov 23 2015

03-TM-0045 Ultrasonic Test Set
TS200
Rev. A – Nov 23 2015

03-TM-0036 Underwater Acoustic Beacon
DK100/90
Rev. A - April 25, 2016
03-TM-0059 Underwater Acoustic Beacon
DKM120/DKM480
Rev. A – May 4 2016

03-TM-0044 Underwater Acoustic Beacon
DK485(/K)
Rev. A – Nov 23 2015

03-TM-0050 Precision Source
CT200
Rev. B – May 23 2017

03-TM-0056 Ultrasonic Acoustic Beacon
DK350
Rev. A – Nov 23 2015

Please visit the Contact Us page if you have any questions or to request a document.